24 Best Espresso Grinders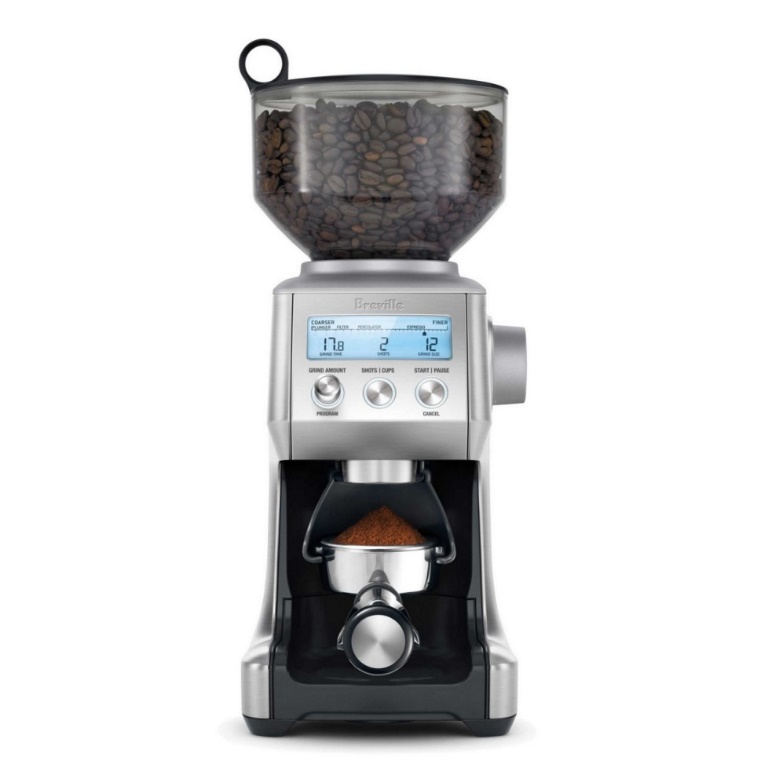 The choices for espresso grinders can be overwhelming. I would like to help you. This is a list of consumer to "prosumer" espresso grinders designed specifically for pairing with your home espresso machine.

1. Smart Grinder™ Pro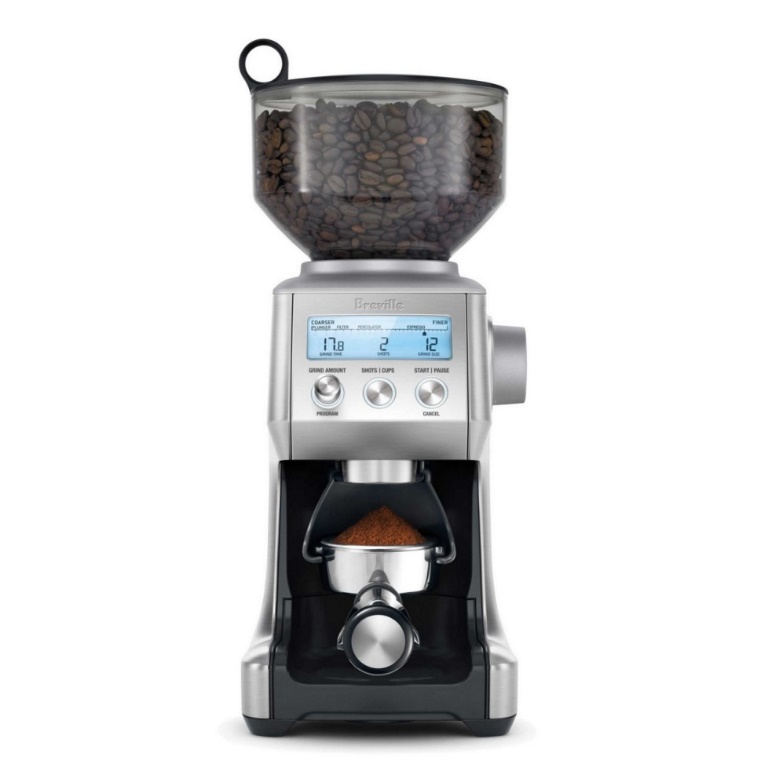 This is the grinder for you if you want a grinder that really does have a "coarse to fine" grind. You can set the timer so you get the exact same amount of ground beans each time, and there is an adapter which grinds the coffee straight into the Breville portafilter. These great extra features put this wise grinder at the top of my list.
Price:
$299.99 click here

1. Burr Coffee Grinder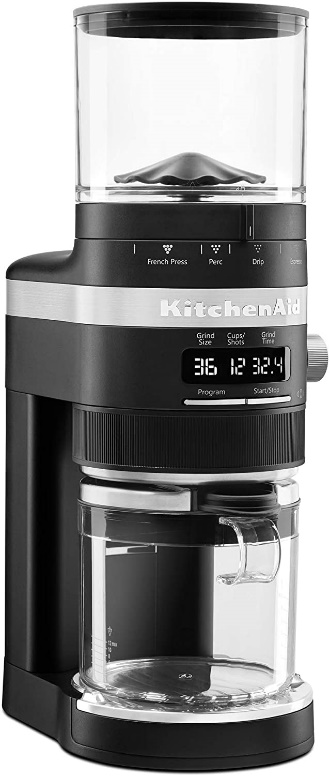 70 Precise Settings for your perfect grind – from coarse for Cold Brew and French Press, to fine for Espresso. Built-In Adjustable Portafilter Holder to grind directly into 54-mm or 58-mm portafilters, perfect for espresso making.
Price:
$179.99 click here

1. Cuisinart ®Touchscreen Burr Grinder in Black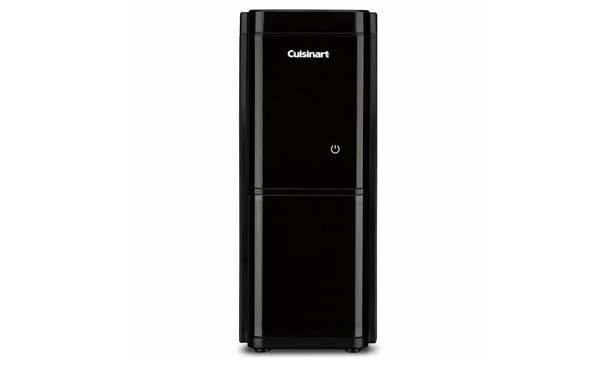 The touch screen is easy to use, and keeps the quantity setting so the next time you want to grind, you just touch the power button to wake up the machine, then touch the now-illuminated button just above it to start the grinder.
Price:
69.99 click here
2. Cuisinart® Programmable Conical Burr Mill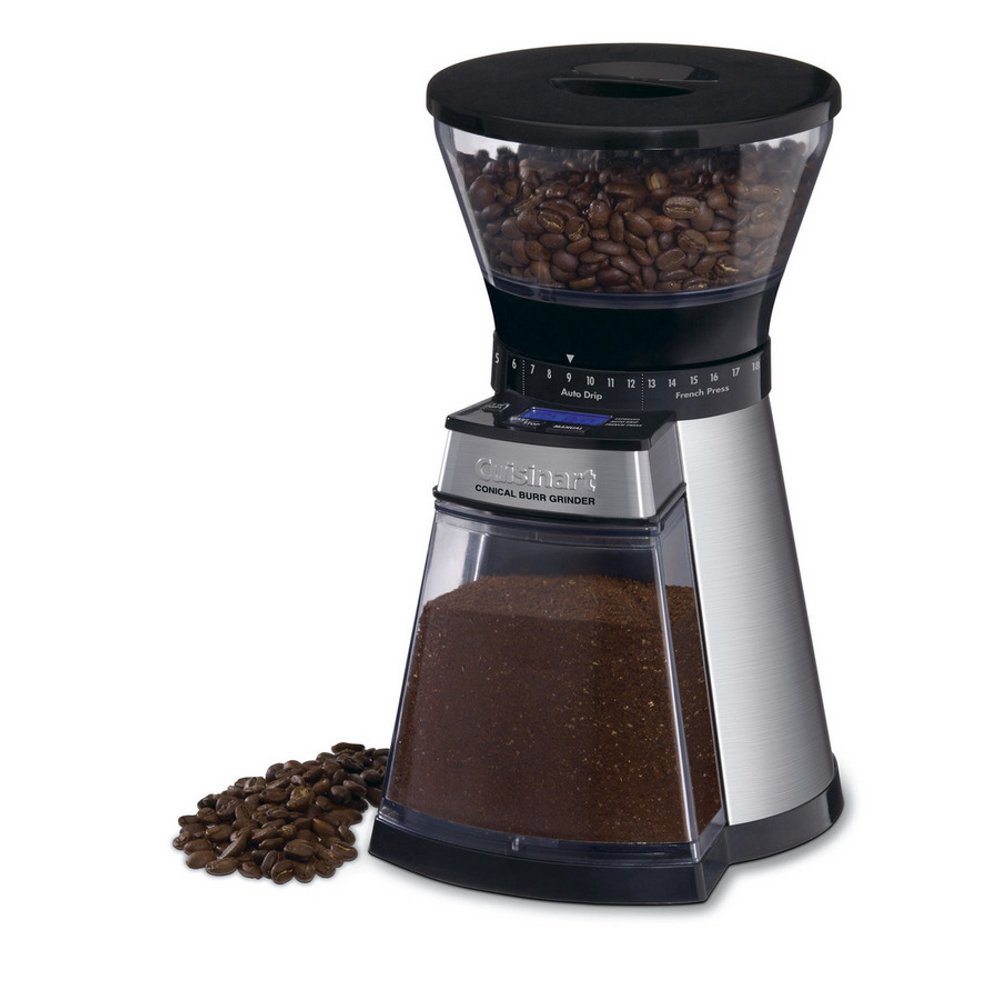 Grinds the beans very evenly and operates with a minimum of noise. Well crafted, reliable, and fully adjustable to suit your tastes.
Price:
$99.99 click here

1. Krups® Conical Burr Grinder with Scale in Black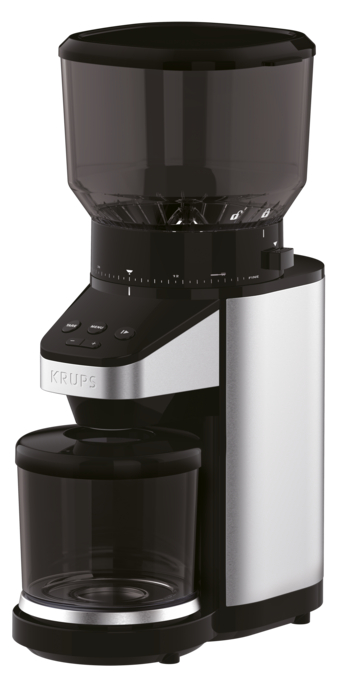 The grinders stainless-steel conical burrs ensure a consistent grind for even extraction, while its integrated scale automatically weighs and delivers the precise amount needed
Price:
149.99 click here
2. Krups® Stainless Steel Burr Grinder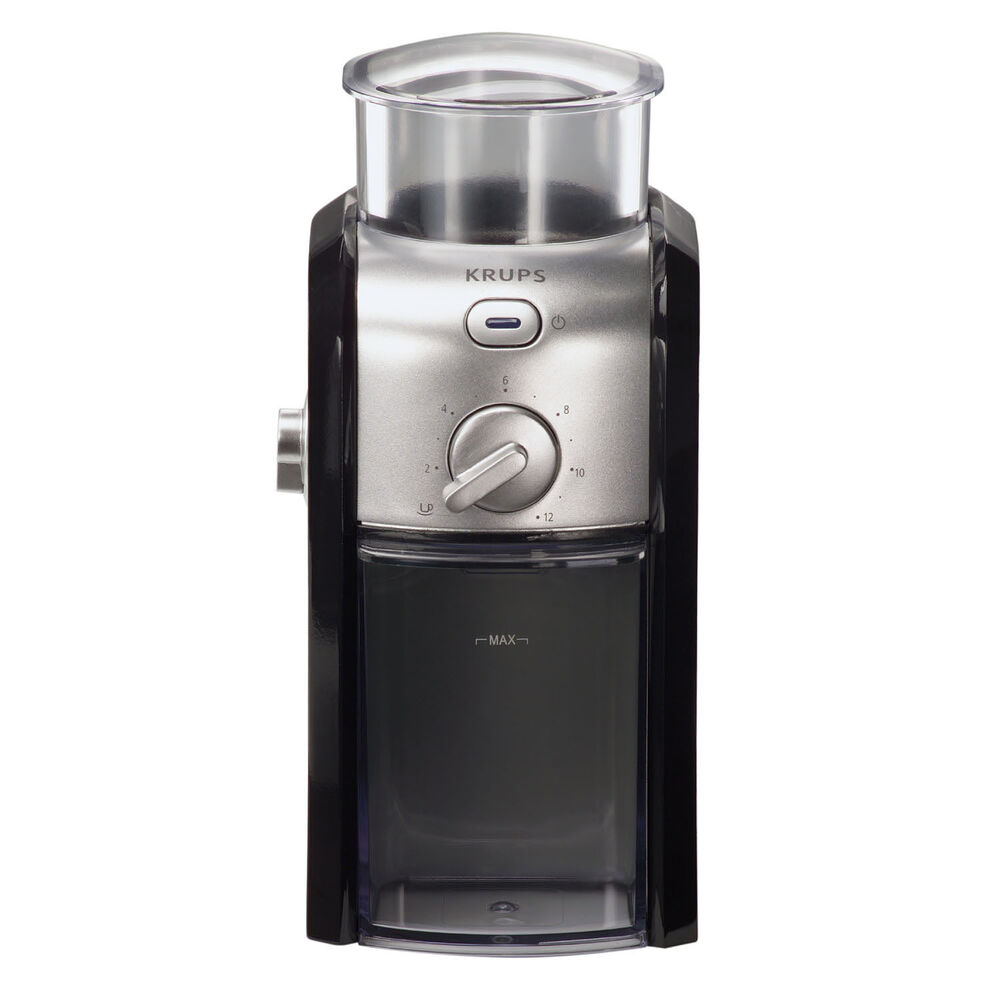 This grinder that can quickly and constantly grind beans for your morning brew while easily changing to a fine grind for your afternoon expresso. This is a unit with a small footprint.
Price:
$66.00 click here
3. KRUPS Precision Grinder Flat Burr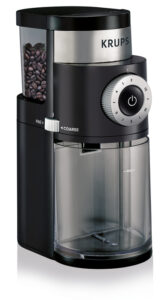 Metallic flat burr coffee grinder provides full control over the grind size and uniform grinding for the full coffee flavor.   12 grind settings plus intermediary settings for precise grinding.  Plus it is easy to clean.
Price:
$69.48  click here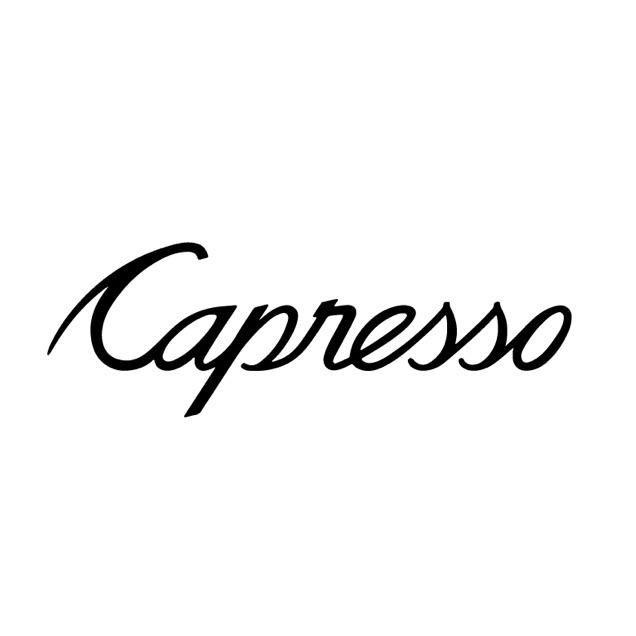 1. Capresso® Infinity Plus Die-Cast Stainless Steel Conical Burr Coffee Grinder
This grinder is smooth, quiet, efficient, and effective! I love its features, small footprint, and overall excellence!
Price:
159.99 click here
2. Capresso® Infinity Silver Conical Burr Coffee Grinder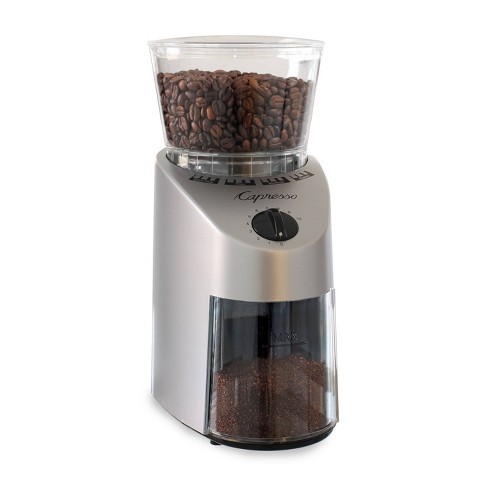 Excellent choice for an economical grinder. You will love the range from coarse to fine grind. Lighter and quieter than the die cast metal model.
Price:
$99.99 click here
3. Capresso® Grind Select Burr Grinder in Black/Silver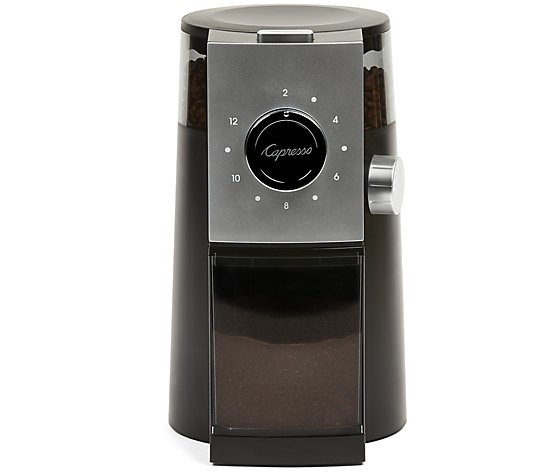 Need a burr grinder but don't want to spend a fortune? This is your grinder. Nice and consistent grind texture. There is a very wide selection of degree of course or fine. It is easy to clean and there are safety features built into the covers and the grind compartment. Overall a very good grinder.
Price:
$59.99 click here
4.  Capresso – 8-oz. Coffee Burr Grinder – Black/Silver
The receptacle for the grounds is easy to remove, empty and clean.  This grinder creates a consistent grind without getting too loud. 
Price:
$49.99  click here

1. ISOMAC by La Pavoni® MPI. Burr Coffee Grinder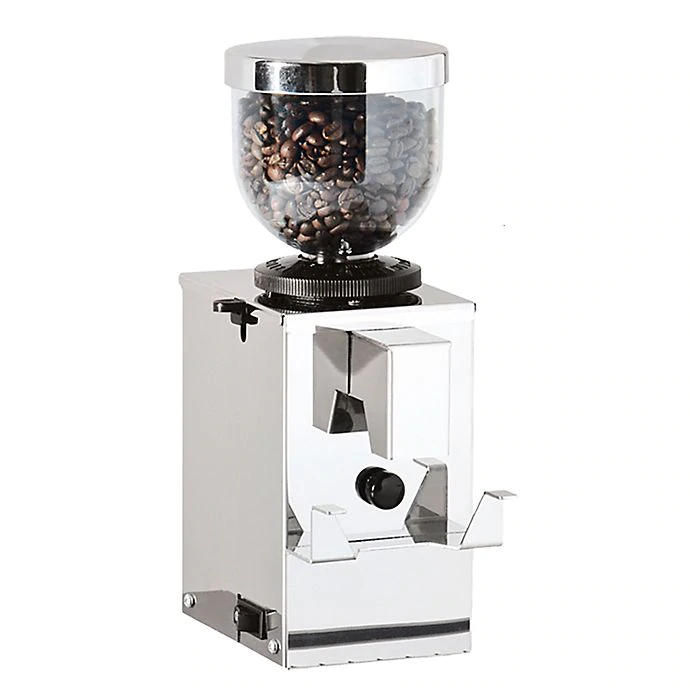 Steel burrs grind consistently from course to fine. This grinder is suitable for ALL types of espresso machines. Polished stainless steel body enhances the modern look.
Price:
$299.99 click here
2. La Pavoni®PA-JRD Burr Dosing Coffee Grinder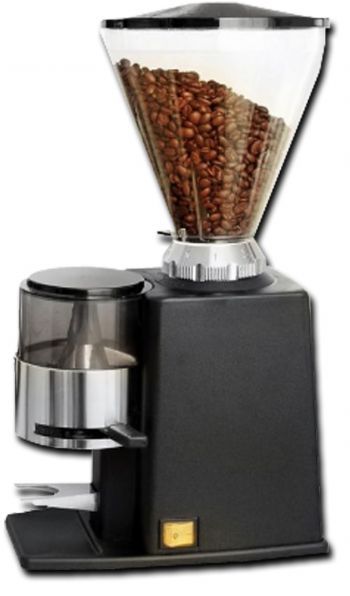 Designed with 50 mm tempered steel burrs. Coffee is ground into the bottom chamber then dispensed via the side dosing level at 7 grams per pull. Features 2 hoppers: a smaller ½ lb. capacity and a large 1.7 lb. commercial size hopper.
Price:
$459.99 click here

1. Espressione® Professional Conical Burr Coffee Grinder
The motor is powerful, so it grinds FAST. This grinder can be used a LONG time before it needs to be taken apart and cleaned. The grinder parts are made of high-quality steel.
Price:
$89.99 click here

1. OXO® Conical Burr Coffee Grinder in Stainless Steel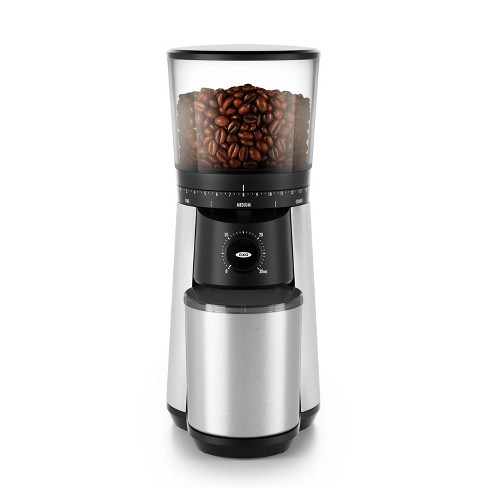 Very easy to clean and reassemble. Quieter than some grinders. This grinder provides an excellent, consistent grind. Finally a metal grounds container that empties without any static!
Price:
$104.99 click here
OXO® Brew Conical Burr Grinder with Integrated Scale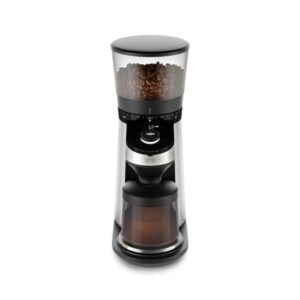 This grinder's integrated scale calculates how many grams of ground coffee you need with no waste. It is also easy to tare and use, highly recommend it.
Price:
$235.99  click here

1. Brim – 6.4-Oz. Conical Burr Coffee Grinder – Stainless Steel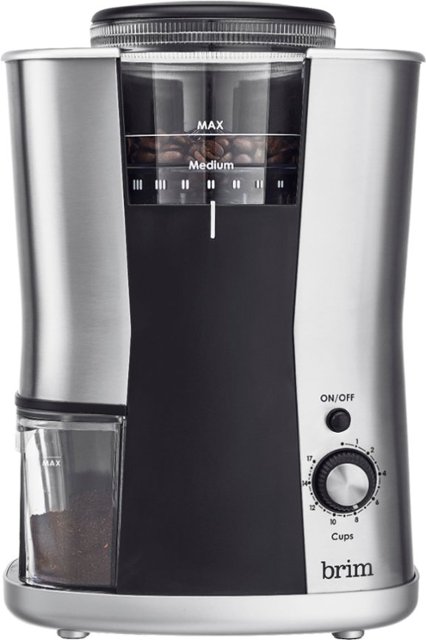 This grinder is easy to use and easy to clean. It has a nice design, and it stays quiet. Put in as many beans as you want, and the grinder will grind them to the number of cups needed.
Price:
$99.99 click here

1. Hamilton Beach – Burr Coffee Grinder – STAINLESS STEEL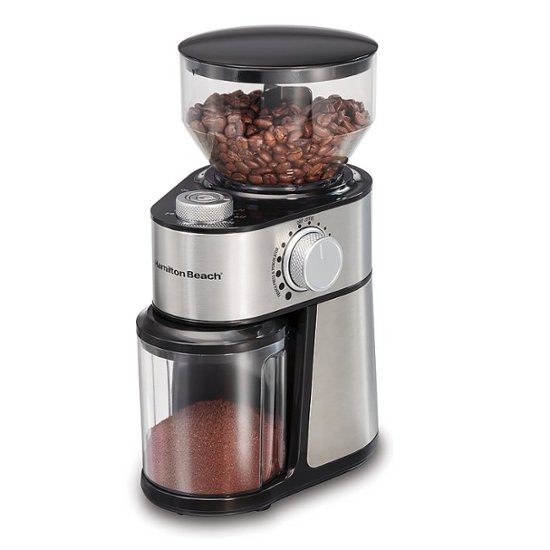 This grinder has a decent sized hopper. It is pretty fast and easy to clean. Features 10 settings for coffee ground size.
Price:
$44.99 click here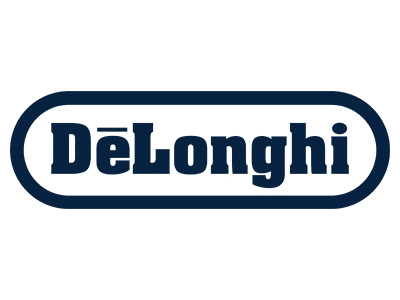 1. De'Longhi – Dedica 14-Cup Coffee Grinder – Stainless Steel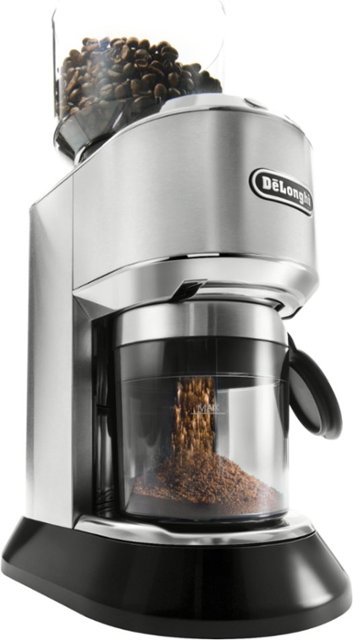 No more buying store ground coffee! Purchase your favorite coffee beans, bring them home and then decide how you want them ground. Enjoy 18 levels of grinding. Choose your settings on the LCD screen and hit start.
Price:
$199.99 click here
2. DeLonghi 4.2 oz. Stainless Steel Burr Coffee Grinder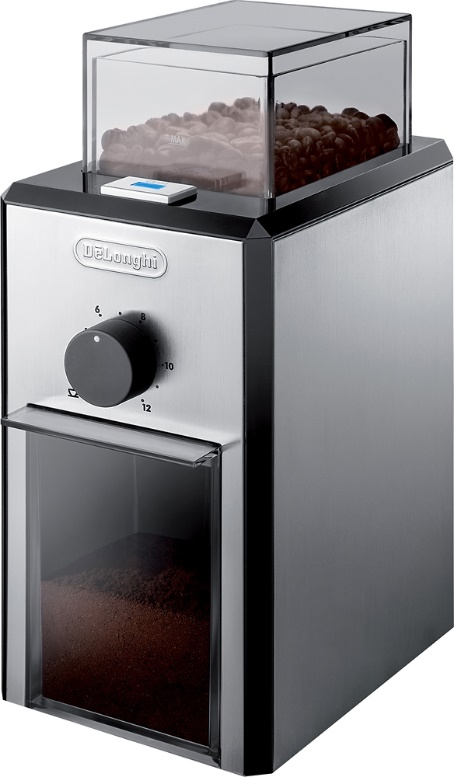 Choose from 3 grind settings (coarse, medium and fine). Dual safety system shuts unit off when lid or container not in place. Rubberized knobs for easy grip.
Price:
$79.95 click here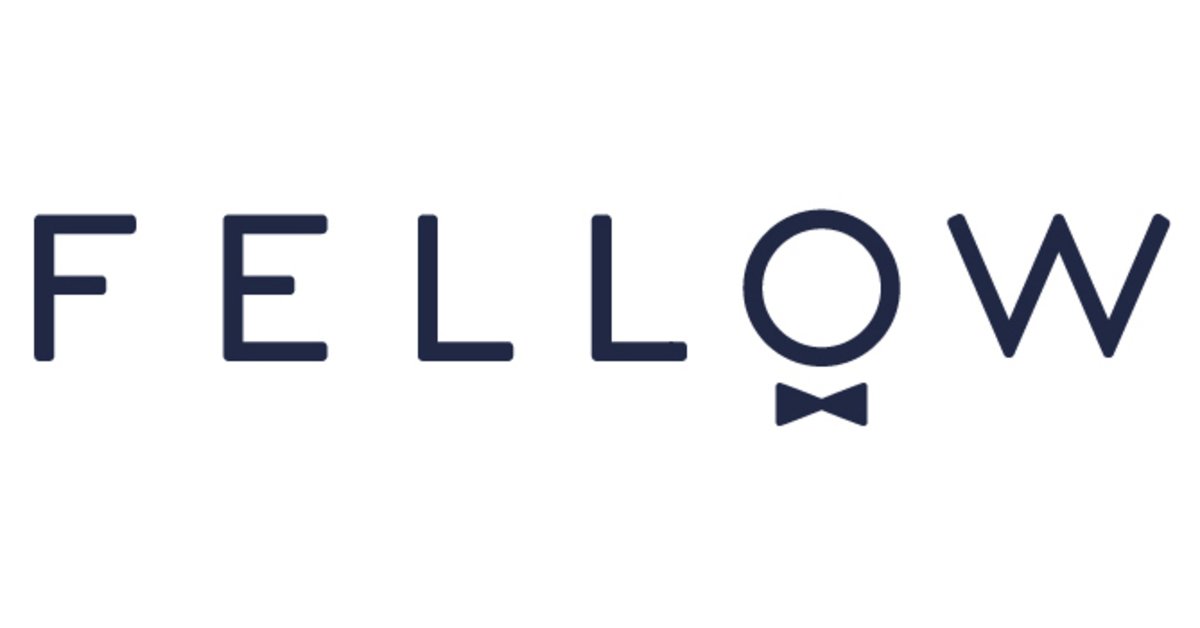 1. Fellow – Ode Electric Brew Grinder – Black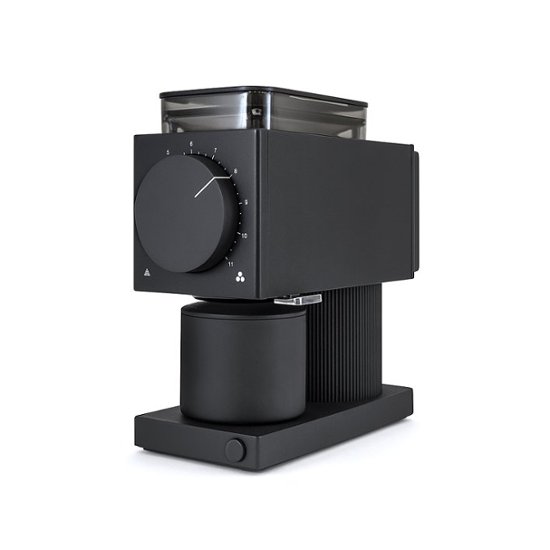 This compact and powerful grinder features an all metal and magnetic grounds container. It also includes a built-in grinds knocker.
Price:
$299.99 click here

1. Smeg Coffee Grinder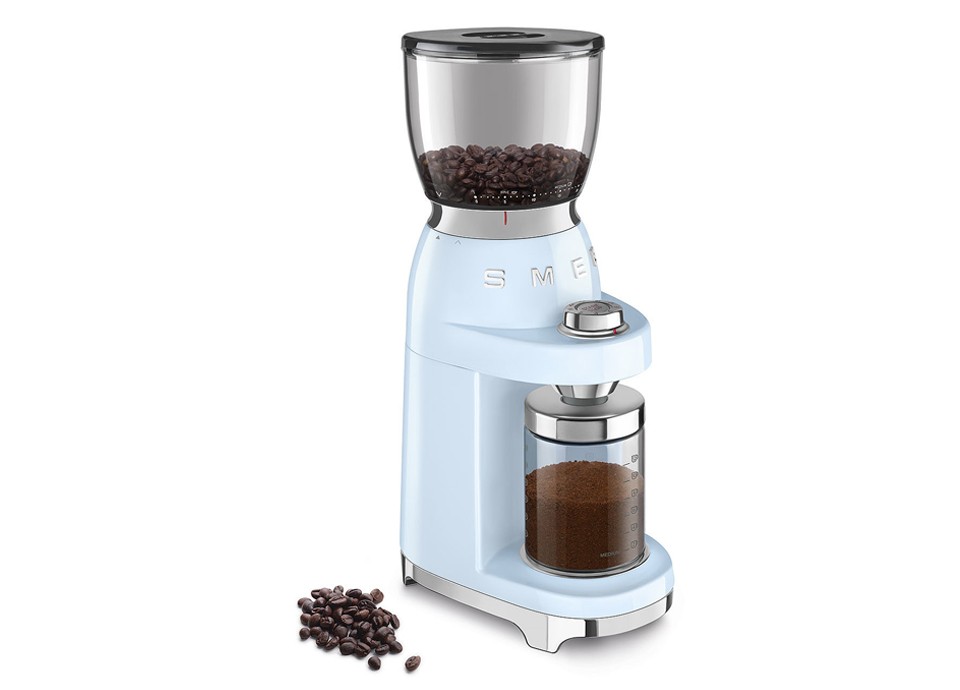 If you already own other Smeg appliances you will love this grinder. It has 30 grinding levels offering precision for all tastes and types of coffee brewing. The Tritan™ bean hopper and ground coffee container both feature Twist and Lock system.
Price:
$314.95 click here

1. Baratza Virtuoso Plus Coffee Grinder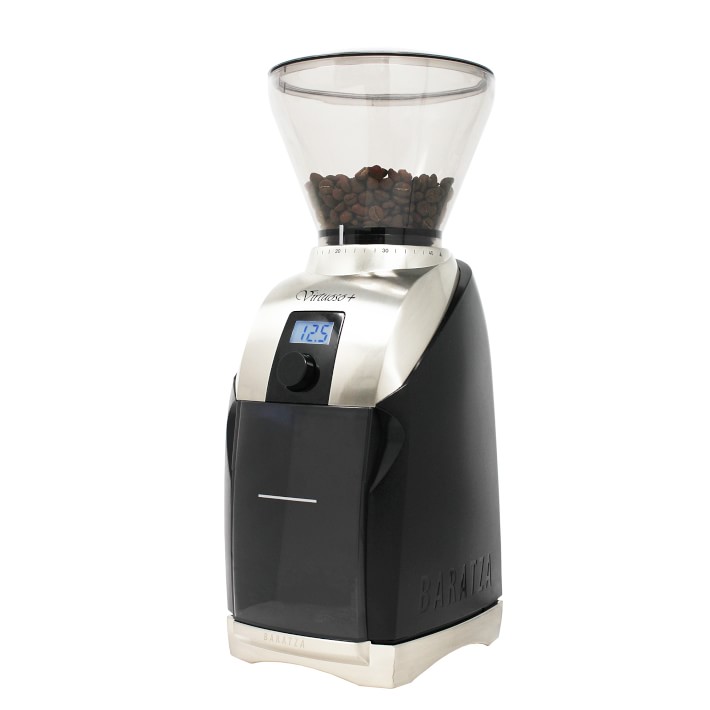 The Baratza Virtuoso is a classic. the Virtuoso Plus model offers a digital display and 40-second timer for exceptional and consistent results every time. The 40 settings create optimal grinds for specific types of brewing, from French press and espresso.
Price:
$249.95 click here
2.  Baratza Sette Coffee Grinder
Offering 30 levels of adjustment, this fast and affordable burr grinder produces exceptional grinds for espresso and manual brewing methods. Designed and perfected in Liechtenstein over a period of 8 years, this grinder sets a new standard of simplicity, efficiency, and durability.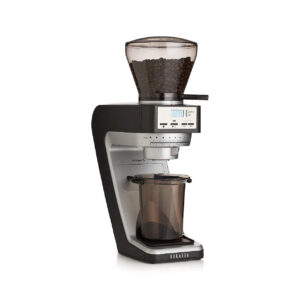 Price:
$299.95  click here
3.  Baratza Encore Coffee Grinder
This grinder features precision-cut steel burrs.  The settings are clear and it is super easy to use.  Grinds quietly, quickly,  and perfectly every time.  Adjustable to 40 different steps with a high-torque motor.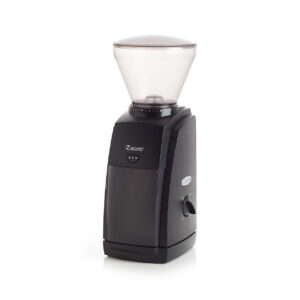 Price:
$169.95  click here
212 total views, 5 views today